Monetary donations to the Cemetery are always welcome and are graciously accepted.  Call the office at (585) 381-4725 to inquire on how your donations will be used.  Office hours are M-F 9-1.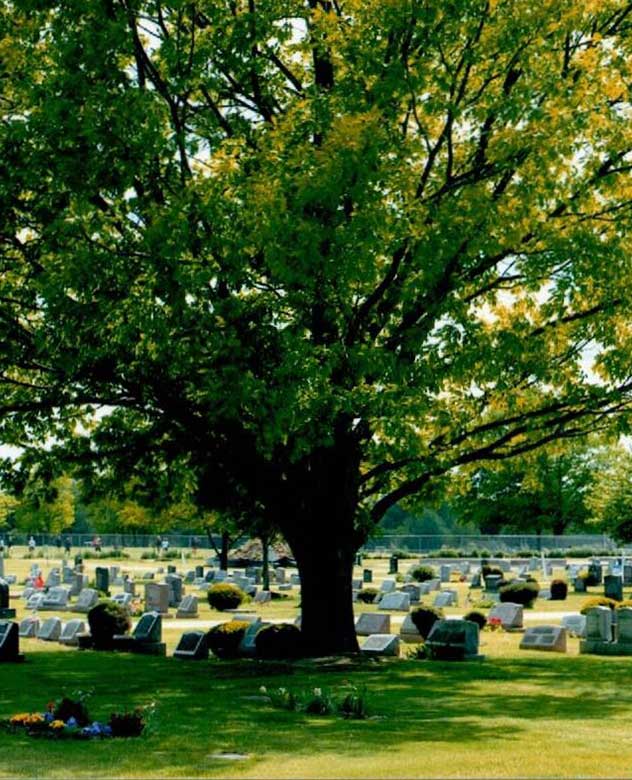 A poem by Sheila Blair
The Oak
Inside the Massive Trunk
A river of life flows,
Winter cold gives way to spring,
Hope of rebirth grows.
You can learn more about our history, our board and our mission to assist you in choosing the perfect burial site in our About Us section.
The first section of Oakwood Cemetery was an acre of land on Baird Road, acquired from Nathan Fisk. The oldest marked grave is that of Daniel Penfield's miller, John Strowger, who died September 8, 1812. Graves that had been located in the burying ground at the Four Corners of town were moved to Oakwood sometime before 1825.
By 1887 the cemetery consisted of six acres and by 1960 it had grown to 24 acres. In 2021, the cemetery covers 28.9 acres.
The Oakwood Cemetery Association was incorporated in 1889 under the statutes regulating rural cemeteries. It is a corporation of lot owners whose "deeds" are recorded in the Penfield Town Hall.
Penfield Town founder, Daniel Penfield and his wife Mary are buried in Oakwood Cemetery, along with three of Mary's siblings. Also buried in Oakwood Cemetery, is a local blacksmith, Timothy Bush. Mr. Timothy Bush is the third great grandfather of President George H.W. Bush. There are many soldiers buried at Oakwood Cemetery including:
9 soldiers from the American Revolutionary War
15 soldiers from the War of 1812
Over 50 soldiers from the American Civil War
Soldiers from 20th Century Wars
The mausoleum was added in 2008.
what we offer
Planning & Burial
Our Gallery
Grounds & Mausoleum
Contact Us
Have Questions?
Get in touch!
Our office is open Monday – Friday 9 AM – 1 PM. Please give us a call us or visit us to find out more. To fill out our online form click the Contact Us button below.
1975 Baird Rd. Penfield, NY14526